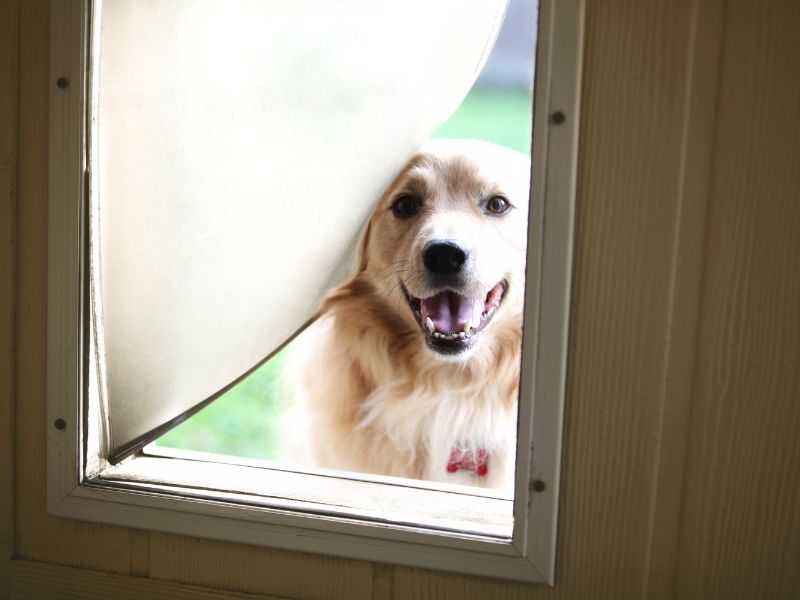 If you've just moved into your new home and you have a pet, you may be thinking of installing a pet door. A pet door is a permanent door feature that is cut into the bottom third of an entry door. Before making a permanent alteration to your door, consider the pros and cons of installing a pet door.
Pro: Your Pet Can Come And Go As Needed
A pet door could cut down on indoor pet accidents if that's a problem you've had to deal with in the past. This is especially convenient if you get home late to let the dog out, or if they have a temporary gastric illness that requires more frequent outings.
Con: An Unwanted Visitor Could Get Inside
Pet doors are designed to give egress to pets, but your pet door might give indoor access to an unwanted animal. It's not common, but it does occur, particularly in areas where wildlife is abundant.
Pro: You Could Do Without A Litter Box
Cats can be trained to go outdoors instead of using a litter box. With a pet door, you can dispense with the odorous litter box entirely, knowing your cat will always be able to take care of business outside.
Con: It's Something Else You Must Remember To Lock
Most pet doors have a locking mechanism for times when you need to secure the home, such as at night. But this is just one more thing you'll have to remember to do, along with setting the alarm and locking windows. And, the more you have to remember, the more you can forget.
Pro: Better Energy Efficiency
Anyone with pets knows that they can ask to go out and come back numerous times per day. Every time you open the door you're letting hot air in, cooled air out, or vice versa. With a pet door, your conditioned air stays in the home much better because there's a smaller opening, and less time spent with the door open.
Con: New Homebuyers Might Not Want It
If you ever sell your home, the new homebuyers might see a pet door as a negative. Since a quality new door costs around $500, they could ask for a price discount on the home purchase.
A pet door can be a huge convenience, but there are some drawbacks as you can see. However, depending on your view (and the opinion of your pet!) the pros may outweigh the cons.
If you are interested in buying a new home or refinancing your current property, be sure to contact your trusted home mortgage professional to discuss your current financing options.