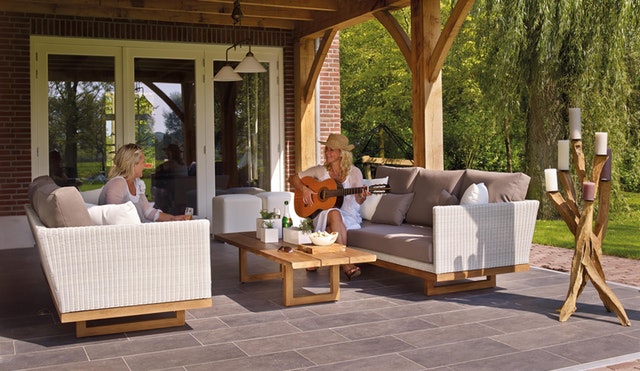 If you want to maximize your outdoor living areas, the ideas below will help you do so. Backyards are seldom used to their full potential. No matter how large or small your yard is, a makeover can create cozy sitting areas and larger spaces that are perfect for entertaining.
Here are four ideas to transform how you use your yard:
1. Move Your Kitchen Outside
Outdoor kitchens let you enjoy fine weather while you cook. It also makes feeding a large gathering easier since there's probably a lot of room to expand. Setting up a fully stocked outdoor kitchen gives you a multi-purpose space that can double as a lounge or dining area. It's all about choosing the right furnishings, such as convertible picnic tables that turn into comfy benches.
2. Decorate To Attract Company
Patio and deck parties are fun and easy — especially if you can get everyone to come to you. Put up umbrellas or add an overhang to keep out the worst of the sun. Plushy seating with room to place snacks or meals keeps guests comfy and satisfied. It's a great place to host poker night, a girls' night in or your kids' soccer team.
3. Create Green Space
Gardens have come a long way from your mom's veggie patch. Reinvigorate your outdoor space with fresh ideas, such as raised beds that save your back when it comes time to harvest your tomatoes and cucumbers. Add brightly colored flowers around trees or in window boxes for a lush look that transforms your yard into a botanical retreat. If you really have a green thumb, consider building a greenhouse where you can grow things most of the year.
4. Light It Up
Area lighting really looks fantastic during nighttime get-togethers and lets you determine when the party's over, not the sunset. Solar lights save energy and work well as guide lights along pathways. String lights create a magical effect around gazebos and patios. However, you'll need brighter illumination if you have guests over. This may mean adding a circuit and hiring an electrician to put up spotlights and security lighting. The good news is that the changes also make your home more secure.
If you are interested in purchasing a new home or if you are ready to list your current property, be sure to contact your trusted real estate professional.